Email me when a 2009 Renault - Electric Start, Po is listed.
Latest 2009 Renault - Electric Start, Po listings RSS feed.
2009 Renault - Electric Start, Po
Walt Morris Supercenter
500-1717 Waverley Street
Winnipeg, MANITOBA R3T 6A9
Year: 2009
Make: Renault
Trim: - Electric Start, Po
Stock Number: S262
Mileage: 6,213 km
Exterior Colour: Black
Interior Colour: N/A
Vehicle Description:
Ski-Doo's crossover machines are the MXZ-Renegades. 800R Power T.E.K. are in the REV-XP chassis. The 800R Power T.E.K. is the twin cylinder carbureted two-stroke that has powered the REV 800 machines for the last couple of seasons. With 3D-Rave valves and 151 hp it's right there in terms of performance with the Polaris and Arctic Cat 800's. A Power TEK engine has carburetors, but has an auto-compensating system and is able to run with proper calibration across a very wide range of conditions. Power TEK is an active system monitoring operating conditions and varying fuel delivery via float bowl pressure regulation. The Power TEK (and DPM) are active carb systems, with varying air pressure being applied to the float bowl, which in turn varies the fuel delivery. Typically the float bowl is at atmospheric pressure, so by controlling the bowl pressure we can increase or decrease the overall fuel delivery. The Power TEK was the most advanced of these systems, which started as simple mechanical pressure devices (HAC -- high altitude compensator) and evolved into active electronic systems, monitoring ambient temperature, barometric pressure, engine rpm and rate of increase or decrease, engine coolant temperature, and possibly an exhaust temperature input as well. Very much like EFI, but controlling the float bowl pressure instead of injector timing and duration. It works very well, and is often called the "poor man's EFI" as it provides the same auto-adjust capability but is priced at a discount in comparison. Ski-Doo is very concerned with weight and the Renegade machines are some of the lightest in the crossover class. This snow machine uses a 16" x 137" x 1.25" Ripsaw track, Ski-Doo was the only company offering a 16" wide track in the crossover segment. In terms of track footprint the 16" wide 137" track is equivalent to 15" wide 146" track. Rear suspension is handled with the snocross derived SC-5 coupled suspension. The front suspension features a dual a-arms with a link style sway bar. ***** If this sled doesn't work for you, please feel free to browse through our available snowmobile inventory at www.winnipegsuzuki.com ***** $199 Doc Fee due at signing. ***** Plus! Check out our huge selection of Klim Snowmobile Gear! ***** TOD in place, and ready to go! ***** Winnipeg Suzuki, in the Waverley Automall - (204) 594-4444 Options.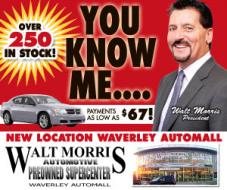 Dealership Information:
Walt Morris Supercenter
500-1717 Waverley Street
Winnipeg, MANITOBA R3T 6A9