Email me when a 2009 Suzuki SX4 is listed.
Latest 2009 Suzuki SX4 listings RSS feed.
Regent Suzuki
810 Regent Avenue West
Winnipeg, MB R2C 3A8
Phone: (204) 222-6250
Cell: (866) 412-7757
Toll Free: 18886311049
Year: 2009
Make: Suzuki
Model: SX4
Stock Number: 13667
Mileage: 12,345 km
Doors: 4
Vehicle Description:
2008 Suzuki SX4 Sport Package Automatic with air Well maintained CARFAX GUARANTEED Payments and Price Reflects $1000.00 cash or Trade Mileage posted is analogous. Please contact us for actual mileage. Call us toll-free at 1 888 631-1049 Options.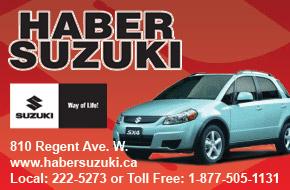 Dealership Information:
Regent Suzuki
810 Regent Avenue West
Winnipeg, MB R2C 3A8
Phone: (204) 222-6250
Phone: (866) 412-7757
Toll Free: 18886311049

Regent Suzuki
810 Regent Avenue West
Winnipeg, MB R2C 3A8
Phone: (204) 222-6250
Phone: (866) 412-7757
Toll Free: 18886311049
Website: www.habersuzuki.ca