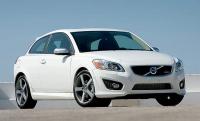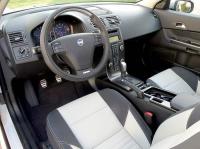 Advertisment
View 2 more Volvo listings.
Volvos make me shiver.
Maybe it's just their image as these all-weather, solid-steel tanks built by Ice People in Sweden, where the sun sets at 3:30 on winter afternoons. Every time I climb into a Volvo, I hear mean winds scratching at the windows.
Before the fairly recent arrival of the sleek, spirited S60 -- the best Volvo ever, I think -- all Volvos seemed built for bad times and worse weather. Often square and heavy, they felt like some responsibly tough vehicle that Thor the Librarian would drive.
Put a small hurricane in the path of an all-wheel-drive XC70 wagon, for instance, and it would soldier through, oblivious to waist-high water and tumbling oak trees. Just don't expect anything adventurous from it on Saturday night.
So the 2012 Volvo C30 R-Design I tested recently was kind of reassuring -- proof that a small, funky faction at Volvo is still slipping odd, interesting cars into the mix occasionally.
The C30 is sort of the stealth Volvo. Last year, the automaker sold a whopping 3,500 of them in the U.S. -- or roughly the number of hubcaps that a good-size junkyard sells in a year. But I would like to think the faction at Volvo behind the first turbocharged C30s several years ago helped blaze the trail for the much better, more significant S60 sedan.
You have to admit the C30 has a certain retro-unique style to it. If you remember the old Volvo P1800 sports car from the '60s and '70s, the C30 kind of embodies that renegade spirit -- a car that wears its Volvo badges slightly off-centre.
The white C30 I had recently definitely felt like a hot-hatch alternative to more common GTIs and MazdaSpeed3s. In R-Design form, the front-wheel-drive C30 gets a turbocharged five-cylinder engine, lower stance, stiffer suspension and various boy-racer body pieces.
As you might expect, the grille is big and Volvo-blunt, flanked by huge, swept-back headlamps. The hood, though raised, is flat. A curving top slides into a P1800-looking hatchback framed by huge vertical tail lamps that tumbled down both sides of the back glass.
Fat, polished dual exhausts protrude from beneath the slight bumper -- a feature missing from Thor the Librarian's Volvo. Those exhausts, incidentally, were connected to an engine cranking out an impressive 227 horsepower in the R-Design model, 27 more than in the GTI but 36 less than in the wild-child MazdaSpeed3.
Attractive five-spoke, 18-inch wheels wore conservative 215/45 tires -- but they wore them pretty well. The tires and wheels, at least, filled the wheel wells. Though the fenders were flared slightly, the sides were mostly smooth and subtly Suh-veedish, I guess.
Like the Volkswagen GTI, the C30 in R-Design form is no bargain. The one I had topped $42,000, plus PDI and taxes. Keep that in mind when you climb inside. You can view the interior as either Scandinavian minimalist or hard and basic. I thought it fit the personality of the car.
A large, black-plastic dash rolled off the base of the sloping windshield, popping up over pleasant, blue-faced gauges on the instrument panel. The C30's best feature was a one-piece console/centre stack that appeared to have been formed from an 20-centimetre-wide piece of aluminum bent into an "L" shape.
Although the door panels were mostly black plastic, they were trimmed in a silver that matched the striking console. Meanwhile, the seats' bolsters were covered in dark grey suede, while the centres were stitched in pleated faux-'50s off-white leather. Though nice to look at, the interior lacked great function. The back seat, for example, was tough to get into and cargo space behind it was no more than average.
And the C30 was finely flawed in other ways as well.
I had high hopes for the car's performance, considering that its 227 horses were pulling a reasonable 1,456 kilograms and connected to a six-speed manual. And sometimes the C30 could be very good, its turbo-huffed 2.5-litre engine generating so much mid-range torque the car could chirp its front tires in energetic second-to-third-gear shifts.
But in the real world, first gear got winded quickly and second didn't feel all that impressive. Most of the power seemed to arrive, oddly, in the higher gears -- which might explain the car's middling 0-to-100 time of 6.8 seconds, according to Car and Driver.
Moreover, the clutch felt so soft I couldn't easily find its engagement point. As you can imagine, that occasionally made for some interesting starts. "Don't mind me, officer. I'm a stunt driver."
Also, the ride was firm and fidgety, reminding you often that the car clung to the road with stiff springs. Likewise, the C30's steering was quick and its brakes were strong, suggesting we might have some weapons here for attacking curvy roads.
But strangely tuned power steering and an overall lack of refinement blunt a lot of that potential. Turn-in to corners was quick and free of lean, but often sloppy because the steering was numb and vague-feeling.
Whatever composure the car possessed in its sturdy architecture was tough to fully utilize. Hit a corner fast enough to induce under-steer, and the C30 could be darty and clumsy. Still, I kind of liked the path-not-taken personality of the car.
But come on, Volvo. It's time to fine-tune the C30's decent collection of parts if you want it to ever be more than just a likeable little eccentric.
I should know.
-- The Dallas Morning News
THE SPECS
Type of vehicle: Four-passenger, front-wheel-drive hatchback
Engine: 2.5-litre turbocharged five-cylinder
POWER: 227 hp @ 5,000 rpm; 236 lb-ft of torque @ 1,500 rpm
Transmission: Six-speed manual; optional 5-spd auto
BRAKES: 2-wheel disc
WHEELBASE: 2,640 mm
CURBWeight: 1,456 kg.
Fuel economy (L/100 km): 10.2 city; 6.8 hwy (manual)
Base price: $38,800