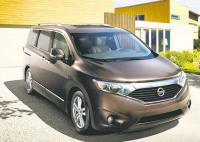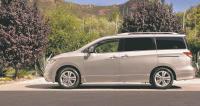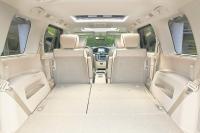 Advertisment
View 263 more Nissan listings.
The 2012 Nissan Quest is arguably the most luxurious minivan on the market.
It's also very versatile, capable, fun and attractive, providing what Nissan calls "Unrivalled Family Mobility."
That's not just marketing hype: This vehicle truly lives up to its billing. We -- husband, two grandchildren, sister-in-law and I -- put that to the test on a recent 10-day road trip, totalling more than 3,800 kilometres, including mountains, two beaches and lots of shopping.
The Quest LE we tested was the top model of four. Prices range from $29,998 for the base S model to $48,578 for the LE.
Under the hood of all models is a 3.5-litre V-6 engine, which produces 260 horsepower and 240 foot-pounds of torque. Front-wheel drive is standard and the engine is connected to a continuously variable automatic transmission.
We had plenty of power for merging, overtaking and climbing the mountain grades, even with the vehicle loaded to the max with people and enough stuff for a week at the beach.
Transport Canada ratings are 11.1 litres per 100 kilometres city, 8.1 highway. Fully loaded, but with mostly highway driving, we averaged just 12.3 L/100 km.
We didn't take a boat with us, but the Quest is capable of towing up to 1,587 kg (3,500 pounds) with an optional towing package.
Everyone was comfortable, thanks to such amenities as the multi-adjustable heated front seats, reclining second-row captain seats that fold and slide forward for easy third-row entry; folding/reclining (60/40) third-row bench seat; and separate air vents/reading lights/assist handles for each seat.
There were also plenty of cupholders and more-than-adequate headroom and legroom, even for the long-legged boy -- around 106 centimetres in the front and second row. I didn't check the third row, but I heard no complaining from the passengers back there.
The conversation ("spy on the kids") mirror didn't help much in seeing all the way back to the third row, but did give a good view to the driver and front passenger of anyone in the middle seats.
There were manual sunshades on the large second- and third-row windows with black privacy glass wrapped smoothly from the front doors around the powered lift gate. My Quest also included a dual moonroof with manual shades.
The fold-flat seatbacks of the third row had quick-release buttons on the sidewalls of the cargo area, with a power-return feature. The cargo area was wide open with the seats folded, with very little intrusion from the wheel wells.
The cargo bed measures 219 centimetres long, 160 centimetres wide at the wall, and 102 centimetres deep, and will haul 1.05 cubic metres of stuff. Under the cargo area is another large storage area with a 60/40 split lid. We could easily have hauled twice the stuff we took with us.
There was a removable center console in the second row, with plenty of room for DVDs and the wireless headphones and remote for the entertainment system (standard on the LE model), which had an 30-centimetre screen that pulled down from the middle of the ceiling.
We enjoyed the 13-speaker Bose audio system with satellite radio and auxiliary audio input. We used the iPod feature to annoy the grandchildren with our music when they weren't wired into their own.
There was a 120-volt AC outlet in the front center console and a 12-volt DC outlet on the lower dash/console area, which was a little inconvenient with our snack bag located on the floor in front of the console. A 12-volt DC outlet in the cargo area couldn't really be used for charging; it was too far away. More outlets would have helped, particularly for the middle and rear passengers, all of whom had their smartphones and other gadgets that needed constant charging.
The Nissan Navigation System with XM Nav Traffic/Weather and Zagat restaurant reviews kept us informed of "severe weather in the surrounding area." Initial route programming using either a rotary knob or the touch screen was relatively simple and intuitive, with easy-to-follow voice directions and map. But we found the secondary functions, such as point-of-interest location and directions, more difficult to program and confusing to follow.
While the Quest obviously isn't a sports car, or even a sporty car, it handles very well, even with a wheelbase of 300 centimetres, a height of 185 centimetres and a turning diameter of 93 centimetres.
-- Fort Worth Star-Telegram
THE SPECS
-- Type of vehicle: 7-passenger minivan
-- Engine: 3.5L V6
-- Power: 260 hp @ 6,000 r.p.m.; 240 lb-ft of torque @ 4,400 r.p.m.
-- Transmission: continuously variable
-- Brakes: 4-wheel disc with ABS
-- LENGTH: 5,100 mm
-- WHEELBASE: 3,000 mm
-- CURBWEIGHT: 1,987 kg.
-- Price: $29,998-$48,578
-- Destination charge: $1,750
-- Transport Canada fuel economy (L/100 km): 11.1 city/8.1 hwy.