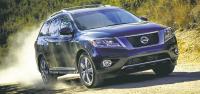 Advertisment
View 53 more Nissan Pathfinder listings.
CALISTOGA, Calif. -- Large SUVs, often viewed as a scourge of the environment, are slowly evolving into less ecologically impactful vehicles as fuel efficiency improves and emissions lessen.
The movement toward lighter, more efficient SUVs is underpinned by a trend to oust dated body-on-frame formats in favour of modern unibody designs composed extensively of high-strength steel, Ford's latest Explorer being a prime example.
Nissan has seen the "light" as well, reflected in their decision to deliver a completely new 2013 Pathfinder founded upon a unibody structure.
The new Pathfinder is slightly lower in profile, wider and a tad longer in size than the 2012 model. More notably, it weighs about 227 kilograms less than the outgoing model. Weight is the nemesis of efficiency, so any reduction at the scales has benefit. In this case, it wasn't an evisceration but rather a broad series of nips and tucks that enabled the weight loss.
Less mass to motivate allowed Nissan to rely upon a smaller but higher-efficiency engine to power the Pathfinder and its class-leading roominess. The new engine is a 3.5-litre V6 mill belonging to Nissan's award-winning VQ family of power plants. It produces 260 horsepower along with 240 lb-ft of torque while burning regular unleaded and is the only engine available in the Pathfinder.
Perhaps more remarkable than the new engine is the presence of a continuously variable transmission (CVT), a first in the large-SUV segment. The re-engineered, ruggedized link between engine and wheels now operates with 40-per-cent less friction as it matches engine rpm to performance demands.
The new Pathfinder is available in a front-wheel drive (FWD) format as well as Nissan's ALLMODE 4X4-i selectable drive system. With a quick turn of the ALL-MODE 4X4-i console-mounted dial, drivers can switch from FWD to an auto all-wheel drive program that engages the rear wheels the moment spin is detected at the front wheels.
When roads become rubble, a further twist of the dial activates a four-wheel drive (4WD) lock mode that carries the vehicle confidently up steep inclines, which was made abundantly clear to us during an off-road session in the hills of Northern California.
It's an exceptionally comfortable vehicle and roomy enough for seven thanks to third-row seating supplied as standard equipment. Third-row seats in SUVs are notoriously awkward to access and tortuous to use, but not so with the new Pathfinder. Nissan engineers developed an innovative Latch and Slide system, which allows the 60/40-split second row seat to slide forward, collapsing against the front seats in order to create the widest pass-through into a third row I've ever encountered.
And once seated in the final row, occupants won't have too much to complain about. There's more room than expected and the seatbacks offer a slight amount of recline as a further token of benevolence.
While the Pathfinder would perfectly serve an adult-oriented trip through wine country, Nissan has targeted young families in the redesign, essentially positioning the Pathfinder as a minivan alternative for the outdoorsy, recreationally active breed. In doing so, they've also addressed fuel economy. The new Pathfinder is roughly 25- to 30-per-cent more fuel-efficient than the previous model.
I've experienced continuously variable transmissions in a variety of vehicles over the years, but never in a large SUV. Nissan is remarkably adept in the use of CVTs, and that now includes the Pathfinder.
In typical driving scenarios, the Pathfinder's CVT and engine work in unobtrusive harmony. Under full acceleration, discord arises to undermine the refinement. The engine can be quite noisy when unleashed in the passing lane and, without the gear changes experienced with a typical transmission, the cacophony doesn't abate until the right foot rises.
In contrast, the 2013 Pathfinder delivers many auditory pleasures, such as a nicely muted cabin with minimal road and wind noise and an optional Bose premium audio system. Dual-screen video entertainment is also available. Overall, the new Pathfinder feels far more car-like than truck-like. It's easy to drive and provides excellent visibility.
In addition to creating a much more efficient, comfortable and modern vehicle, Nissan has added more value to the fourth-generation Pathfinder, which starts at $29,998 for the well-equipped S FWD version, and escalates to $45,198 for the Platinum Premium 4WD edition.
Look for the Pathfinder to find its way into showrooms this fall.
-- Postmedia News