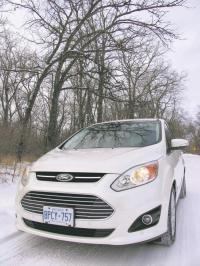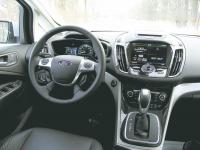 When it comes to dull car names, Ford's C-MAX has to be right up there with the Nissan Multi and Ford's own Aspire. It must be difficult coming up with new and exciting names for cars, which is likely why we're being inundated with the meaningless alphanumeric handles that luxury brands seem so content with.
But C-MAX? Granted, this isn't actually a new model, even though it's new to us in North America -- it has been around in Europe since 2003. Still, a bit more imagination would be welcome.
While the C-MAX has historically been (and still is) available with traditional gasoline and diesel powertrains in Europe, we get only the hybrid and new "Energi" plug-in hybrid variants. In other words, the C-MAX is aimed squarely at the king of the hybrid hill: Toyota's Prius.
If we were going on names alone, I'd have to give this one to the Prius. But, thankfully, there's more to this assessment than that, so let's not dole out the awards just yet.
It should come as a surprise to exactly nobody who knows me that, when it comes to hybrids, I'm a hard sell. The fact that a diesel-powered car resides in my garage is testament to that.
The big issue for me is that it's hard to find an efficiency-oriented hybrid that's fun to drive. Take a Prius out for a spin and you'll know what I'm talking about. Sure, there are plenty of performance-minded versions on the market with price tags in the upper-five and six-figure range, but here we're talking about attainable, efficient cars that go about their business with a minimal effect on our environment.
While Toyota and, to a lesser extent, Honda, have been making the most noise about hybrids on the mass market, Ford has also been making gas-electric vehicles for our market since the 2004 Escape Hybrid made its debut. That's only three years later than the first Prius and four years after Honda's first two-seat Insight arrived here.
So there's no question Ford knows what they're doing when it comes to hybrids and, to demonstrate that, they've put the Toyota Prius squarely in the crosshairs and pulled the trigger.
The C-MAX Hybrid is a front-wheel-drive, five-door hatchback built on the same C1 platform as the Ford Focus, but it offers more room, hence the name C-MAX. It's slightly longer and wider than the Focus hatchback and more than 15 centimetres taller. But thanks to clever use of innovative features such as underbody aerodynamic shields, the C-MAX Hybrid boasts a very effective 0.30 drag coefficient.
Although the C-MAX Hybrid offers more overall interior room than the Toyota Prius v, this can be deceiving, as it's mostly due to the Ford's higher roofline, which effectively means you can drive the C-MAX Hybrid while wearing a top hat. In fact, rear-seat legroom is about the same in both vehicles and the cargo area of the Prius v is deeper and more usable when all the seats are occupied.
C-MAX pricing starts at $27,199 for the SE model which includes 17-inch alloys, remote entry, Sync user interface, four-wheel independent suspension, a power liftgate, automatic climate control, a cargo cover, split-folding rear seat, automatic headlights, and a bunch of other goodies that make this quite a well-equipped car for the price.
Coincidentally, the similarly-sized Prius v starts at an astonishingly close $27,425. The Prius, though, has less power and makes do with things like 16-inch steel wheels, no power liftgate on offer and a torsion-beam rear suspension. It also consumes about 10-per-cent more fuel than the C-MAX, according to official ratings.
Our tester was an SEL model, which starts at $30,199, and adds a power driver's seat, push-button start, MyFord Touch user interface, reverse sensing system, satellite radio, a perimeter alarm, and rain-sensing wipers to the SE's equipment list.
Of course, Ford wooed us with a full-load model, including optional heated leather seats, premium audio and navigation system with nine speakers, a rear-view camera and the automatic parking system that seems to be finding its way into all of Ford's new offerings.
The price for all that kit comes to $32,699 before destination and taxes. The $1,200 panoramic roof is the only option that our car didn't have.
Power comes from a 2.0-litre Atkinson-type four-banger which pumps out 141 hp and is supplemented by an electric motor for a total system output of 188 horses, some 50 more ponies than the Prius v. A continuously-variable transmission (CVT) seamlessly adjusts the drive ratio to return maximum performance or minimum fuel consumption, depending on the weight of the driver's right foot. Four-wheel discs and electrically assisted power steering round out the C-MAX mechanicals.
While the C-MAX doesn't share body panels with any other Ford model, it's instantly recognizable as a product of the Blue Oval crew thanks to design elements borrowed from the Fiesta and Focus. It's a tasteful family resemblance that is marred somewhat by a smoother, more rounded look that removes some of the character that the other cars have. Regardless, it's clean and better proportioned than the Prius v.
Its interior also benefits from family resemblance, with a dashboard design lifted straight from the new Escape. Only the instrument panel differs, thanks to high-resolution screens that flank the centre-mounted speedometer to display all sorts of information that hybrid drivers need to know.
To the left, one can choose trip-computer information or display ongoing fuel-consumption graphs which show how performance has varied in one- or two-minute intervals. On the right, my favourite display has to be the "efficiency leaves" which grow or fall off at a rate commensurate with one's driving style.
In practice, the C-MAX is a whole lot of fun, and I'm not talking about that geeky "let's-see-how-many-leaves-I-can-grow" fun. This is actually a responsive and engaging car to drive, one that turns in with a purpose and doesn't require a ridiculous amount of concentration to brake smoothly at low speeds (a common hybrid drawback).
My week with the car netted about 7.8 L/100 km, which is nearly double the car's rated consumption -- 4.0 L/100 km city and 4.1 highway, or about .7L/100 km better than the Prius v's official figures.
I would normally be appalled at this discrepancy, but I've accepted that, with hybrids, it's par for the course. Outside temperatures were in the -10 to -15C range and, when the car is left outside overnight, it takes at least 15 minutes for the system to get into maximum fuel-efficiency range. During that time it consumes just as much fuel as any conventional car the same size, and not a single leaf grows on the screen.
Oh well, at least when I shut it off, the display reads "Thank you for driving a hybrid."
And this much I do know: With the C-MAX, Ford has just beaten Toyota at its own game.
THE SPECS
ENGINE: 2.0-litre Atkinson cycle four-cylinder with integrated electric motor
POWER: 188 hp @ 6,000 rpm; 120 lb-ft @ 4,000 rpm
TRANSMISSION: continuously-variable automatic
DRIVETRAIN: front-wheel drive
SUSPENSION: four-wheel independent with stabilizer bars
LENGTH: 440.9 cm
WHEELBASE: 264.9 cm
CARGO VOLUME: 694L/1,489L (rear seats up/folded)
FUEL CONSUMPTION: 4.0 L/100 km city, 4.1 L/100 km highway
BASE PRICE: $27,199
OPTIONS: $2,500
A/C TAX: $100
DESTINATION: $1,550
PRICE AS TESTED: $34,349 plus taxe