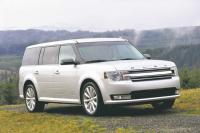 Advertisment

View 8 more Ford Flex listings.
Ford calls its Flex a "crossover" vehicle, but "my son's cool-looking, modern version of a '60s power wagon" might be a better description. A whole new front end certainly gives the 2013 edition of the Flex a chic, contemporary appearance, and Ford has packed it with even more mind-boggling technology.
The Flex is a different kind of family-size multiple-seat vehicle. Yes, it has a roomy, space-efficient cabin that provides generous seating room for up to seven people, and it can quickly transform into a cavernous cargo-hauler without having to remove any seats. Yet,it also has the looks and performance of a cool, classy ride.
Made in Canada, the front-drive Flex comes in SE, SEL and Limited editions, with prices starting at $30,999. The all-wheel-drive versions are available in SEL and Limited trims, with a starting price of $39,099. An optional EcoBoost V-6 engine is also (and only) available on the Limited-trim version.
The upgraded base 3.5-litre V-6 now has twin independent variable camshaft timing (Ti-VCT), which allows it to deliver an extra 25 horsepower and even better fuel economy. It's also closer in performance to the optional twin-turbo 3.5-litre EcoBoost V-6, which is unchanged. Fuel economy is slightly better with the EcoBoost engine, but it prefers premium fuel and, as already mentioned, it's only available in the top trim level.
For 2013, the Flex comes with improved chassis dynamics and noise-reduction measures. The front shock towers are now wrapped with sound absorbers and there's upgraded body-sound-deadening used under the dash, under the hood and around the rear wheels. It has revised spring and damper rates, and a hard-mounted steering rack now provides a quicker steering ratio.
In addition to the latest MyFord Touch system, Flex can also come with driver-aid features such as adaptive cruise control with collision warning and brake support. There's Ford's Blind Spot Information System (BLIS), as well as Intelligent Access with push-button start, remote-start technology, rain-sensing wipers, a power tilt and telescopic steering column and power-fold mirrors. Heck, the Flex can even park itself with the self-guiding Park Assist option.
Upgrades to MyFord Touch make the screen easier to use and faster to navigate. The text is larger and the touch areas on the screen look and function more like buttons. There's a new Appearance Package available with Limited and SEL trims. It includes a two-tone black roof, black mirrors, 20-inch aluminum wheels with painted pockets, leather seats and unique door trim panels.
The large Ford oval badge is a notable absentee on a more rounded front, and F-L-E-X in large lettering is on the leading edge of the hood. The three-bar grille has been reduced to one with a black surround, and the lower front fascia has a restyled air intake. Although largely cosmetic, the exterior changes give Flex a very different look that's bolder and far more distinctive. My test Flex was a Limited trim with the optional xenon headlights, which gave it an even more striking appearance.
Extra-large doors present a wide opening for passengers to enter or exit Flex, and most passengers will find the seats are at an easy slide-in height.
The second-row seats offer generous leg and head room and the third-row seat is an adult-usable position with access past a second-row seat that folds and flips out of the way.
Storage is impressive. Even with all seven seats upright, Flex has 566 litres (20 cubic feet) of cargo space in back. That jumps to 1,224 litres (43.2 cu. ft) with the third row down and a whopping 2,355 litres (83.2 cu. ft) if you then lay the second row flat. Start the car, IKEA, here we come!
The Flex now comes with new active safety features that intervene to prevent a loss of traction in cornering situations. It's called Torque Vectoring Control and Curve Control technology. As the car accelerates through a corner, Torque Vectoring Control detects when the front inside wheel is starting to slip and applies a slight amount of braking to it. This prevents wheel spin and has the effect of transferring engine torque to the outside wheel (with more grip), which helps maintain traction and steering control. Curve Control senses when the vehicle is entering a curve too quickly. It can apply four-wheel "smart" braking to reduce vehicle speed by up to 16 kilometres an hour, which helps the driver follow the intended path.
Another new safety feature is rear inflatable seatbelts. This advanced restraint system is designed to help reduce head, neck and chest injuries for rear-seat passengers. Children and older passengers are more vulnerable to these types of collision injuries.
Having 365 horsepower and 350 pound-feet of torque available any time your brain gives the signal to your right foot is very comforting and satisfying. The EcoBoost V-6 engine offers V-8-like performance without the fuel-consumption penalty.
An ally in the Flex's fuel-conservation fight is a smooth-shifting six-speed automatic transmission geared for good highway fuel economy. On the other hand, it also provides both sport and manual operation modes. My top-line test Flex came with paddle shifters at the steering wheel, an unexpected treat. Moving the shift lever to the S (sport) mode triggers a transformation to "bad" Flex. There's an instant change to a more aggressive transmission shift pattern, it tightens the steering and chassis, and a tachometer appears on the instrument panel.
You can also use the manual shift paddles in the normal D (drive) mode, really handy if you want to make a quick change in speed to get past something or merge with traffic.
On the road, the Flex transmits a solid, secure feeling through its taut body structure and wide track. While Ford has firmed the suspension, it's still a comfort-oriented ride that's composed and quiet. It's a more car-like driving experience than you'll get in most of its seven-seat competitors. There's a customary strut-type suspension up front, but a unique independent coil-spring setup in the rear. This accounts for its very good ride qualities, particularly on the highway, even for those in the very back rear seats.
A cool new look is combined with improved power, performance, safety and driving dynamics. The 2013 Ford Flex breaks the laws of design convention and offers a bolder, different take on the multi-seat family wagon.
-- Postmedia News
THE SPECS
2013 Ford Flex
TRIM LEVELS: SE, SEL., SEL. AWD, Limited AWD & Limited EcoBoost AWD
STICKER PRICE: $30,499 to $48,299
POWER: 3.5-litre V-6, 285 hp
POWER: 3.5-litre V-6 turbo, 355 hp
TRANSMISSION: 6-speed automatic
FUEL CONSUMPTION (3.5L): 12.8/8.4 L/100 km (city/highway)
FUEL CONSUMPTION (3.5L AWD): 13.5/9.2 L/100 km (city/highway)
FUEL CONSUMPTION (3.5L TURBO AWD):13.1/9.1 L/100 km (city/highway)