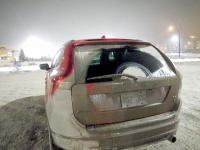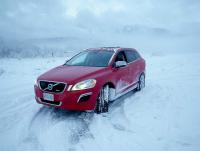 Advertisment
View 12 more Volvo listings.
From my table at the Tim Horton's in Hundred Mile House, I looked out at my Volvo XC60 R-Design test car. Four hours into a road trip, the thing still looked good, though the Passion Red paint wore a coating of snow and highway grime.
I sipped my coffee and watched the trucks roll by on British Columbia's Highway 97.
Let's backtrack a bit. I'd picked up the Volvo xc60 on a rainy December afternoon in Vancouver. Two hours earlier, I'd been clearing fresh snow from my Whistler driveway, and more was promised for the drive home. Here I was, wearing too many layers, signing for a very attractive sports luxury SUV.
Good so far, except the thing was shod with Vancouver footwear, fat Pirelli Scorpion performance tires. They're said to be suitable for "very occasional light snow," not a term we're familiar with in the Coast Mountains.
For those not up on Euro-terminology, Polestar is a leading Volvo tuner, and is moving in-house much like AMG for Mercedes. There are a few truly potent S60 Volvos running around Europe, armed with 500 horsepower and all-wheel drive.
The upgrades available in North America are more subtle, in this case a boost to 325 horsepower, remapping of the throttle response, plus R-Design suspension, trim and interior upgrades.
Englishman Steve Mattin was chief of the XC60 design team, and one of his stated goals was to create a moving sculpture, while keeping brand identity. R-Design bits only add to an athletic profile. Obvious competitors are the BMW x3 and Audi's Q5.
The interior of the XC 60 R-Design is very well laid out, in a modern Scandinavian style. The dials and switchgear are clear and easy to operate. I think of Volvos, coming from a Swedish background, as being winter cars, just as in Pierre Berton's terminology we Canadians are a winter people. This vehicle had every electronic driver's aid you could think of, including pedestrian recognition, collision avoidance, and blind spot alert. However, as on every similarly equipped vehicle I've tested, don't expect these things to work in severe weather. The Volvo owner's manual is quite explicit in this regard.
The snow started hard and fast before Squamish, and the Pirellis were not happy. The deceptive element with all-wheel drive is that forward acceleration seems unlimited, so you have to think it through to realize that braking and cornering still rely heavily on tire choice. Under the circumstances, we skated around a fair bit.
The next morning, I loaded some backcountry gear and headed north. First stop was Pemberton Airport, where we run our advanced driver training. There, with ice fog swirling and a layer of fresh snow on the runway, I laid out a slalom course. It was time to get to know the XC60 a bit better.
The R-Design was a pleasant surprise, despite the inappropriate tires. Pretty soon I was throwing it around like a rally car, and it never lost composure. That's a sign of a very well-worked-out chassis, drivetrain and brake combination.
Through the mountains, into another snowstorm, I switched the gearbox to manual mode. While it would hold a gear most of the time, full throttle could still trigger a downshift. As with most dual-mode automatics, the driver doesn't have the full control offered by a true manual gearbox. An hour into the drive, the forward-viewing radar was no longer active, and Bliss, the blind-spot detection system, was warning of snowflakes. But the basic goodness of the vehicle shone through. So did the active xenon headlights, swivelling to light the way through turns.
Heading north from Hundred Mile the road was clear, so I got to evaluate the XC60 when the tires could actually reach the pavement. This is a seriously quick vehicle, as fast as many so-called muscle cars. Throttle response is immediate, and it takes a moment to re-tune the right foot to the necessary smoothness.
The steering is amazingly precise, with decent feel for an electric unit. Seats are superb, though being kind of slender I would have liked adjustable side bolsters. I kept the cabin temperature on the cool side, and let the seat warmers keep me comfortable.
The automatic gearbox is a tad less sophisticated than the BMW and Audi competition. But visibility in all directions is better than most SUVs, and the brakes bite with authority. In overall feel, this is more Grand Touring than truckette. It actually reminded me of the Aston Martin I drove across Europe a few years ago -- the same long-legged feel, but with ground clearance, all-wheel drive and generous luggage room.
Running through country where wild animals are part of the scenery, it was comforting to know that the Swedes started moose-collision testing years ago. Not something I cared to try, so I made good use of the excellent brakes for the one moose I encountered that night.
Unfortunately, in North America we are denied the diesel XC60 R-Design and manual gearbox. In a perfect world, that would be my choice, because it's still quick and has excellent fuel economy. The XC averaged 12 litres per 100 kilometres during the time I had it, about average for the class.
I drive a Volvo, but have a bias towards BMWs, having raced their cars, done development testing for the company, and taught at their advanced driving schools. Nevertheless, in a close contest, I'd take the XC60 R-Design over a BMW X3, especially for winter work. The Volvo just comes across as a more complete vehicle.
That moving sculpture stuff doesn't hurt either.
Alan Sidorov is an experienced automobile racer, product tester and freelance writer. You can reach him at www.spdt.ca