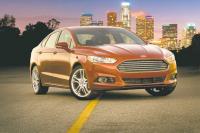 Advertisment
View 33 more Ford Fusion listings.
It's rare to see a hint of Maserati or a dash of Aston Martin in a family sedan.
The reason is simple: Automakers need to sell mid-size sedans by the truckload -- about 1,000 a day. To please that many people at once, the design needs to avoid offending buyers even more than it needs to entice them.
So it's refreshing to see Ford's 2013 Fusion, a good and good-looking car in a segment where form usually follows way behind function.
The 2013 Fusion is the second generation of the family sedan from Ford, but it doesn't share a freckle with its predecessor. The new silhouette is inspired by the wave of four-door coupes from European luxury brands. Think Audi's A7 or Mercedes-Benz's CLS.
These cars lose the clear delineation between greenhouse and trunk. Instead, a rear window gently slopes toward a short trunk lid. The effect is sleek and, rare for a Ford, elegant.
The Aston Martin influence shows in the open-mouthed chrome grille, flanked by a pair of squinting headlights. The Maserati homage is in the taillights, with stretched red lenses surrounding a clear insert in a shape reminiscent of a GranTurismo.
Inside, Ford integrates the car's many features into a clean dashboard, a refreshing change from the overwrought offerings common in today's technology-laden cars, including other Fords.
The test car came with the company's much-criticized Sync navigation and infotainment system. But Ford's designers built this system's screen flush with the dashboard, giving the cockpit clean sight lines and an airy feel.
The interior has its flaws. Too much flat plastic robs its character, and the climate buttons don't work unless punched. But the seats are supportive, and passengers in all four corners have ample room.
Beyond design, the Fusion stands out for the number of engine options: a forgettable base four-cylinder S model that starts at $24,049, two turbocharged four-cylinders (the latter in lieu of a V-6), a hybrid and a plug-in hybrid.
Ford expects most buyers will choose the smaller of the EcoBoost turbocharged engines, a 1.6-litre unit that makes 179 horsepower and 172 pound-feet of torque on premium fuel. Buyers can get it paired with a six-speed manual transmission or a six-speed automatic; either unit starts at $26,949.
If you can stand it, choose the manual, even for city traffic. The smooth shifter and light clutch lets you make full use of the composed engine. The Fusion could use more torque at low speeds, but the engine never feels strained once the revs start climbing.
The outdated automatic transmission, meanwhile, tends to get in the engine's way with slow and jarring shifts. While many competitors are developing continuously variable transmissions, which have no fixed gears, Ford apparently spent the research and development money elsewhere on the Fusion.
The suspension hustles the car through corners without sacrificing ride quality. Road and wind noise are all but banished from the cabin. The steering communicates well with the driver, though not quite as well as the Nissan Altima.
Fuel economy on the 1.6-litre engine with an automatic transmission is rated at 8.7 litres per 100 kilometres in the city and 5.5 on the highway. Our test car had the optional start/stop function, which improved these figures to 8.5/5.3. During my 400 kilometres of testing in mixed driving, the car averaged 9.0 L/100 km.
The entire Fusion lineup won the Green Car of the Year award, given out by the Green Car Journal at the 2013 Los Angeles Auto Show.
Ford has put together a solid offering that holds its own in a cutthroat segment, neck-and-neck with the class-leading Honda Accord.
But the Fusion certainly wins for best-dressed, and taking sartorial cues from exotic brands isn't a bad way to lure new buyers.
-- Los Angeles Times
THE SPECS
-- TYPE OF VEHICLE: front-wheel drive or AWD five-passenger sedan
-- ENGINE: 2.5L four-cylinder/1.6L Ecobbost/2.0L Ecoboost
-- POWER
2.5L: 168 hp @ 6,000 rpm; 170 lb-ft of torque @ 4,500 rpm
1.6L Ecoboost: 179 hp @ 6,000 rpm; 172 lb-ft of torque @ 4,500 rpm
2.0L Ecoboost: 237 hp @ 5,500 rpm; 250 lb-ft of torque @ 4,000 rpm
-- TRANSMISSION: six-speed automatic
-- BRAKES: 4-wheel disc with ABS
-- LENGTH: 487 cm
-- WHEELBASE: 285 cm
-- CURBWEIGHT: 1,554 kg
-- CARGO SPACE: 453 litres
-- FUEL CONSUMPTION (L/100KM)
2.5L: 9.2 city, 5.8 hwy.
1.6L Ecoboost (auto): 8.5 city, 5.3 hwy.
2.0L Ecoboost: 9.5 city, 6.3 hwy.
-- BASE PRICE: $24,049 (S) -- $35,549 (Titanium AWD)