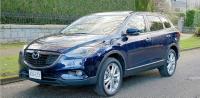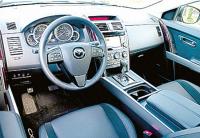 Advertisment
View 119 more Mazda listings.
The average North American family consists of 3.14 people; the average household: 2.58.
So it's a little odd that the market for seven-passenger SUVs is heating up. Folks seem to be feeling comfortable enough about the economy that they are once again up-sizing.
Hyundai is introducing a new three-row version of its Santa Fe, and Ford will soon offer its popular Transit Connect delivery van as a seven-passenger Mom-mobile. But Mazda is getting a jump on the competition with a refreshed version of its CX-9.
If family size is a function of wealth, it makes sense that Mazda's largest vehicle is also its most premium and its most expensive, catering to well-educated families making at least $100,000 who can afford to drop at least $35,000 on a car -- and fists full of cash every time they fill up the tank.
For its sixth model year, the CX-9 is improved with mostly cosmetic and technological improvements. It's powered with the same 3.7-litre V-6 engine that gives it sufficient pull to safely merge into speeding traffic and enough juice to get up hills without overburdening the six-speed automatic transmission. Its profile, however, is more windswept, with a dramatically raked front window.
The interior finish is middle-of-the-road sleek, largely because it's entirely black, and it's hard to go wrong with such a basic. Mazda complements the black leather of its seats with black suede and subtle red stitching.
Technology, however, is where the real wars are waged between competitive vehicles. A new 5.8-inch display is now standard on all three versions of the CX-9 and incorporates HD Radio. There's also a Short Message System that, when a smartphone is synced with the car, can receive and send text messages that are displayed on the LCD645 screen. The same system will also automatically dial 911 if the car's airbags deploy.
One of the most useful safety technologies on the CX-9 is blind-spot monitoring, a feature that is especially helpful for harried moms carting their bickering -- and distracting -- spawn. Every time a vehicle pulled into my blind spot, a yellow graphic lit up in the corner of my side mirror to alert me. When using my turn signals to change lanes, the car beeped to let me know if I might be taking off another driver's bumper in the move.
When I picked up my nine-year-old from winter camp last week, he and his best friend were so excited to discover the CX-9's third row, they didn't even bother collapsing the middle seat to get there. Being less than five feet tall, neither boy complained about the head or leg room -- both of which incrementally diminish with each row.
Climbing into the rearmost row after the kids had cleared out required a bit of contortionism, I found. The second row doesn't slide forward enough to step onto the third row floor; I needed to climb onto the door sill and duck under a seat belt. This isn't an activity for moms whose fashion proclivities include miniskirts.
Collapsing the third row with the Grand Touring model is especially easy for parents who long for octopus arms that can wrangle kids as well as groceries. The lift gate automatically opens with the press of a button on the key fob, and the third row easily collapses with a clever system of pull tabs. Pull on the small tab under the head rest, and it flips forward. Pull on a second one at the back of the seat, and the whole thing falls forward.
I was testing the most premium of the CX-9's three trims -- the all-wheel-drive $46,645 Grand Touring model that upgraded the audio to Bose, expanded my radio options with Sirius, Technicolored the center console screen and let me gaze at the stars through a power moon roof. There's also an optional $2,500 package that adds voice-activated navigation and a power liftgate.
The CX-9 is available in front-wheel and all-wheel drive, the latter of which gets slightly worse fuel economy mostly due to the additional weight.
The profile of the CX-9 is long, but driving it doesn't feel like a car that can pack seven and also haul 1,588 kilograms. It handles like a smaller car. The most significant indicator of its largesse is the screen that monitors its fuel economy, which told me, after more than 700 km of driving, that I'd averaged just 12.9 L/100km.
Mazda won't say when it will be giving the CX-9 the SkyActiv treatment, as it has with its five-seat SUV, the CX-5, which costs $10,000 less and averages 7.7 L/100 km in the city and 6.1 on the highway.
-- Orange County Register
THE SPECS
TYPE OF VEHICLE: 7-passenger front- or all-wheel drive SUV
ENGINE: 3.7-litre V6
POWER: 273 hp @6,250 rpm; 270 lb-ft of torque @ 4,250 rpm
TRANSMISSION: 6-speed automatic
BRAKES: 4-wheel disc with ABS
LENGTH: 510.8 cm
WHEELBASE: 287.6 cm
CARGO SPACE: 2,851 litres
FUEL CONSUMPTION (L/100km): 12.7 city, 8.4 hwy. (GS) / 12.8 city 9.7 hwy. (GS AWD, GT)
BASE PRICE: $35,890 (GS) -- $46,645 (GT)