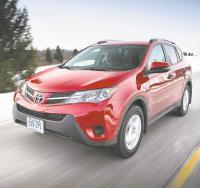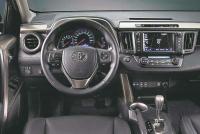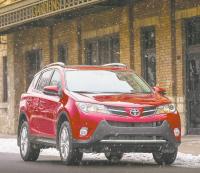 Advertisment
View 40 more Toyota RAV4 listings.
INGERSOLL, Ont. -- Typically, when Toyota trots out the "bold" descriptor, it's to announce a new chrome bezel for its windshield wipers or, if they're feeling especially crazy, some chromed wheels replacing aluminum alloys.
"Bold" is not something one normally associates with Toyota. Mainstream, conservative and even tepid have often been appropriate adjectives, but it's been a long time since Toyota has been bold.
And I won't insult you by telling you that the RAV4, for which the company has again trotted out the "bold" label, is as daring as a Ferrari, Chevrolet's Camaro or even the company's own Scion FR-S. But, for once, when the company says the new RAV4 is stylish, there's some truth to its assertions.
Indeed, this is the first mainstream Toyota product that will sell on looks as much the company's legendary infallibility. The entire front end of the new RAV4 borders on -- I swear it's true -- aggressive. I know, it's a little like finding out Stephen Harper has a wicked sense of humour.
Up close and personal, the little Toyota's front fascia and its black rubber under-cladding show a hint of a shark's snout. Creases over the front fender are sharp, the roofline swoops back like a Range Rover Evoque and the RAV4's Nissan Juke-like bulging rear tail lights are stylish rather than just, well, bulging.
Inside, there's much the same teasing with the avant garde. The cockpit wraps around the driver, the gauge set is slightly reminiscent of a Porsche's and the dashboard has a pronounced ledge that runs through its entire length. It's the interior's most dramatic feature and, even if it does cast shadows on some of the lower buttonry (for the Eco and Sport modes as well as the USB connector), it's probably the most distinctive design element of any budget sport ute.
Even the two-tone, black-and-tan (Toyota calls it Terra Cotta) leatherette seats that are part of the Limited option package are distinctly stylish and well-bolstered. And a new 576-watt JBL audio system is now available -- even Toyota is joining the ranks of those wishing to rattle our ear drums with rap-induced decibels.
The rest of the RAV4's remake is much more evolutionary than revolutionary. The wheelbase, for instance, remains the same, at 2,660 millimetres, but the RAV4 is 50 mm shorter, 10 mm narrower and 25 mm lower. The interior space is much the same as the last edition, though that's not at all bad, since the baby Toyota CUV is extremely roomy. Four adults fit comfortably inside, never once challenging either the RAV4's rear-seat head- or legroom.
The RAV4 continues Toyota's recent trend of complete interior and exterior redesigns mated to existing engines, the company taking a page out of BMW's playbook to get more headline news in two or so years when it refines the engine lineup.
So, for now, the RAV4 soldiers on with the existing 2.5-litre inline four. It's good for 176 horsepower and 172 pound-feet of torque, both numbers good but not exceptional. The RAV's transmission has been upgraded, however, the automatic gaining two gears for a total of six.
That's good enough (along with aerodynamic improvements), says Romaric Lartilleux of Toyota University, for an improvement in overall fuel economy from the previous 8.3 L/100 km rating to 7.7 L/100 km for this refreshed version. And that come with better performance, he added: The RAV4's zero-to-100-kilometres-an-hour acceleration time has dropped from 10.2 to 8.9 seconds.
Those shopping RAV4 will note that there is no longer a V6 option. Though unconfirmed, its deletion from the lineup is almost certainly because, in the not-so-distant future, Toyota will add a hybrid powertrain to the RAV4's lineup.
The RAV4's comportment on the open road is, in more traditional Toyota terms, slightly improved. The chassis feels a smidgen more rigid. Ditto for the suspension, which resists roll during hard cornering with a little more vigour. The RAV4's steering, despite being of the much denigrated electrically boosted type (for better fuel economy), has no less feel than before.
The all-wheel-drive system has been modified slightly, offering a Sport mode that defaults to a 90/10 front/rear torque split rather than the Normal mode's 100/0 front-wheel-drive and Locked 50/50 modes. Considering the effort it took to program that slight 90/10 differential, I can't help but wonder why Toyota didn't get all brave and factor in an even more aggressive rearward torque bias. Perhaps the handling might have been that much more sporty.
Nonetheless, the new RAV4 (base price newly reduced to $23,790) is a much more attractive package. Indeed, it vaults to the front of the mainstream CUV pack in the looks department (Range Rover's Evoque is still the prettiest thing with mud flaps).
It's been a long time since Toyota could claim stylistic leadership in any segment. Methinks the great recession may have awakened the sleeping giant.
-- Postmedia News
THE SPECS
Type of vehicle: five-passenger front- or all-wheel drive SUV
Engine: 2.5-litre four-cylinder
Power: 176 hp @ 6,000 r.p.m.; 172 lb.-ft. of torque @ 4,100 r.p.m.
Transmission: six-speed automatic
Brakes: 4-wheel disc with ABS
Length: 457 cm
Wheelbase: 266 cm
Curb weight: 1,545 kg
Fuel consumption (L/100 km): 8.7 city, 6.4 hwy.
Base price: $23,790