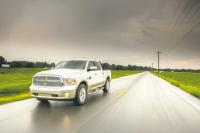 Advertisment

View 35 more Jeep Grand Cherokee listings.
Give me a boost, will you?
Climbing into one of these gargantuan new pickups can be like hoisting yourself onto the roof of a house -- with a similar view once you get up there.
But, hey, I figure big pickups function kind of like NFL linemen -- minus the warrior tattoos, jewelry, weird hair and occasional off-season stints in prison.
They need lots of big-bellied bulk to shove around all the heavy loads in an oversized world.
Even so-called light-duty mainstream pickups may need to tow 4,500 kilograms f hay or haul 1,400 kilograms of greasy tools or that tangerine-coloured 10-metre party boat for the weekly summer skin-fest at the lake.
In short, they better be able to lug the single-car garages that once housed them.
With the largest heavy-duty pickups, you just drop in a growling diesel the size of a Nissan Versa and stand back. Who cares about mileage?
But the challenge with slightly smaller "light-duty" trucks is preserving their immense capabilities while easing their voracious appetites for fuel.
As you may recall, the U.S. visionaries in Washington expect all vehicles -- including trucks -- to meet tough new federal fuel-economy standards, and pickups today are barely halfway there.
So which body parts do we chop off, Dr. Doom -- fenders or doors?
Ram, instead, is lifting a page from Ford and adding paragraphs of its own, offering a pumped-up base 3.6-litre V-6 and efficient eight-speed automatic in its more refined 2013 truck.
Like Ford, Ram's base engine is now a stout, modern six with 305 horsepower and economy of 12.3 litres per 100 kilometres in city driving and 8.0 on the highway in two-wheel-drive form. (With four-wheel-drive, that drops to 15.3/10.5.)
For now, that is the best economy in the segment with horsepower once found only in V-8s. The Ram is also the only pickup with an eight-speed automatic.
Moreover, Ram -- formerly Dodge Ram -- had enough confidence in its new engine to drop it into the really large SLT Crew Cab I had recently, along with four-wheel-drive.
Before we get too excited here, let me provide a little truth in advertising: The towing capacity in a V-6 Ram is less than 1,800 kilograms, half what you get in a Ram Sport with the 395-horsepower Hemi V-8.
Still, my silver SLT felt plenty capable. As with all Rams, everything on the truck felt like it had been built in the Land of Giants -- every large knob, handle, lever and pedal.
The truck's signature enormous grille looks better than ever, combined with a raised hood and contemporary-looking headlamps. Although the Ram still wears slab sides, they felt masculine and purposeful on this big square, jut-jawed pickup.
While still tall and proud, the new Ram actually punches a cleaner hole than ever through the air. At speed, its air suspension -- derived from the Jeep Grand Cherokee -- can lower the truck by more than half an inch, and active shutters in the grille close to make the Ram more aerodynamic.
Unfortunately, my truck rolled on ordinary-looking five-spoke 17-inch wheels and 265/70 tires that seemed kind of common on a well-designed vehicle with a weighty $41,295 base price.
The work-truck ambience also prevailed inside -- a fact I discovered after finally pulling myself into the cab's grey cloth interior to find immense legroom and headroom in back. The interior fits and functions well, a big flat dark-grey dashboard dropping down and around an enormous centre stack where the rotary shifter for the eight-speed automatic was mounted. (It's a bit odd, but I promise you'll get used to it.)
The grey-cloth seats with dark tweed centres had decent bolsters with reasonably good support, and the immense console could be folded into a centre seat. Dark-grey plastic door panels offered lightly padded armrests with nifty brushed-aluminum trim in their centres.
If I owned a tool belt, I could have tossed it anywhere without doing damage. As it was, my Jimmy Olsen notebook and Papermate pen fit easily into one of the multiple oversized cupholders.
And I always arrived at my sombre, tap-tap computer-key worksite in comfort. The Pentastar V-6 -- a relatively new engine used in multiple Chrysler vehicles -- sounded healthy and smooth at idle and under moderate throttle.
Despite the Ram's immense 2,352-kilogram weight, the truck leaped eagerly from red lights and stop signs thanks to a low first gear. The eight-speed tranny stayed busy downshifting on slight rises or hills, but it kept the big truck in its power band and shifted smoothly.
As a result, acceleration was really pretty brisk given the load the six was lugging, with zero to 60 mph (96.6 km/h) arriving in an impressive 7.6 seconds in Motor Trend's test of the Ram. In flat-out acceleration, the six sounded strained, but then, so do I.
Likewise, with the truck's long wheelbase and air suspension -- in place of coil or leaf springs -- it rode remarkably well on smooth pavement.
As you might expect in a pickup weighing nearly three tonnes, the Ram's steering felt thick, a bit slow and kind of heavy. But that actually seemed pretty natural in a big pickup. And while no one will ever mistake the Ram for a canyon-carver, it maintained its balance fairly well in corners.
We should probably get accustomed to finding healthy V-6s like the Pentastar and Ford's 3.7 V-6 and EcoBoost 3.5 beneath the wide hoods of full-sized pickups.
The next step will probably be lots more aluminum, carbon fibre and composites in truck bodies in an attempt to shed at least 200 kilograms and scratch out a couple more litres per 100 kiloetres.
What's next -- virtual loads we can chatter about on Twitter, or would that be twitter about on Chatter? Welcome to the new rodeo, cowboys.
-- The Dallas Morning News
THE SPECS
2013 RAM 1500 SLT CREW CAB:
Type of vehicle: Six-passenger, four-door, rear-wheel or four-wheel-drive full-size pickup
Engine: 3.6L V6
Power: 305 hp @ 6,400 rpm; 269 lb-ft of torque @ 4,175 rpm
Transmission: eight-speed automatic
Brakes: 4-wheel disc with ABS
Length: 581.6 cm
Wheelbase: 355.6 cm
Curbweight: 2,258 kg
Towing capacity: 1,724 kg
Fuel consumption (L/100 km): 12.3 city, 8.0 hwy. (2WD SLT); 13.0 city, 8.5 highway (4WD SLT);
Base price: $37,295 (2WD SLT); $41,295 (4WD SLT)