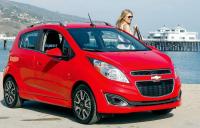 Advertisment

View 8 more Chevrolet Sonic listings.
City-dwellers and those who have trouble parallel parking, rejoice! Chevrolet has introduced the Spark, the first minicar that the bow-tie brand has sold in the United States.
Looking like a Chevrolet Sonic that was left in the dryer too long, the aggressively sculpted styling makes the most of the available sheet metal, despite clownishly oversized headlights that are the same length as the hood of the car. Still, the Spark has a distinctively spunky look despite its short-but-tall stance and feminine colors, such as the test car's "Techno Pink."
Climbing inside, you'll find Chevy made no attempt at accenting the interior with fake wood or faux carbon fiber -- there are no mock metallic accents or leather seating surfaces. Instead, this car's honest design reflects its price in the pecking order. The plastics that decorate the cabin are nicely grained, but they're just that -- plastic. Seats are vinyl and, thankfully, top-of-the-line 2LT models have front-seat heaters and an armrest for the driver's seat. The overall design is fun and strangely refreshing.
All Chevy Spark models come with air-conditioning, power windows and 10 air bags. Opt for the pricier 1LT or 2LT models, and you get a seven-inch touch screen with Chevrolet's MyLink. This infotainment system, designed for use with your smartphone or MP3 player, features a USB port and Bluetooth audio streaming. And the on-screen graphics are modern and sophisticated.
That all said, I wasn't thrilled to find a four-speed automatic transmission (a $1,50 option) on the test car. While good for a Transport Canada rating of 7.1 litres per 100 kilometres in the city and 5.2 L/100 km, the five-speed manual transmission returns 6.3 and 5.1 L/100 respectively -- closer to what you'd expect given the size of the car.
As you might expect, the Spark's fuel economy comes at the expense of performance. Its 1.2-litre four-cylinder engine produces 84 horsepower, enough to power this car adequately around town. But highway merging calls for a long on-ramp, lots of patience, or an empty highway. The spark in the Spark comes from style, not engine power.
You'll find, however, that the car's quick steering makes this poky little puppy fun to drive, although the car's short wheelbase returns a fairly busy ride that crashes and bangs over most road imperfections.
The best part of the Spark: its affordability. Starting at less than $14,000, the fully loaded 2LT test car still came in at under 20 grand (plus taxes, transport and PDI). So even those of modest means can revel in a bit of hedonism.
There's enough goodness in the Spark to spark sales, especially for city-dwellers. While its small size takes some getting used to, its big heart is easy to appreciate.
-- The Virginian-Pilot