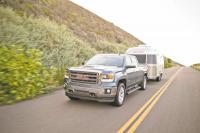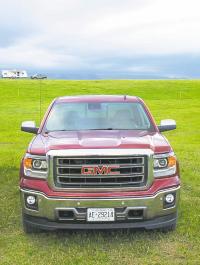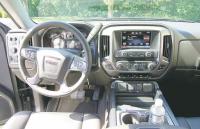 Advertisment
View 213 more GMC listings.
Although the differences between the new GMC Sierra and its Chevrolet Silverado sibling are primarily only skin-deep, one of the things I've always liked about General Motors trucks is that they offer consumers more than one option.
Some folks prefer the more utilitarian appeal of Chevy trucks, while others opt for the understated elegance of the GMC. Around here we like to refer to the GMC as the gentleman's Chevy.
With a fresh new pair of truck offerings from the General, the jury is still out on which one is more attractive. The new Silverado arguably looks a little meaner than the new Sierra but, to me, the Sierra is the better looking of the pair.
I'll leave it up to your eyes to decide. But, either way, there's no doubt both models will be fixtures on Manitoba roads very soon.
Earlier this month, I had the opportunity to test the new Silverado at the Canadian media launch in Newfoundland and was totally impressed. Last week, we travelled to Alberta to check out the new GMC Sierra, and had the chance to test the truck's towing capabilities.
Our trip took us up into southwestern Alberta behind the wheel of a fully loaded 2014 GMC Sierra SLT 1500 4WD Crew Cab. We then camped for the night in a massive travel trailer and towed it back to Calgary the following morning.
Like its Silverado sibling, the new Sierra is available with a choice of three new EcoTec3 engines -- a 4.3L V-6, a 5.3L V-8 and a 6.2L V-8. Although these engines may share the same displacement as the old Vortec motors, these mills are brand-new and loaded with the latest fuel-saving technology, including direct injection, cylinder deactivation and continuously variable valve timing.
As well as being more fuel-efficient, these new engines also pump out more power. The new 4.3L V-6 makes 285 horsepower and 305 lb.-ft. of torque, while the new 5.3L V-8. makes a whopping 355 horsepower and 383 lb.-ft. of torque. Fuel consumption for the 5.3L V-8 is rated at 8.7L/100km on the highway, the best of any V-8 pickup and, according to GM, better than the Ford EcoBoost V-6.
The new 6.2L V-8 will be available in Sierra SLT and Denali models. Official figures haven't been released yet, but it's estimated at 420 horsepower and 450 lb.-ft. of torque -- the most horsepower and torque of any light truck in the industry.
Having had the opportunity to test both the 4.3L V-6 and the 5.3L V-8 in Newfoundland, I can report that both these engines are abundantly powerful and as smooth as silk. That said, the real test of any truck's mettle isn't how well it hops off the line, but how it performs when towing.
According to survey data collected by General Motors, 60 per cent of all North American truck-owners use their full-size pickups for trailering, and the new Sierra and Silverado 1500 pickups are loaded with innovative towing technology that relates to everything from acceleration to safety and braking.
I was a bit nervous with that massive travel-trailer hooked up to the back of the new Sierra, but any concerns I had were soon gonzo.
Before the truck was even in motion, systems were monitoring conditions. On any grade of five per cent or more, Hill Start Assist automatically engages the Sierra's brakes until the gas pedal is pressed. This keeps the truck from rolling backward, technology that is especially helpful in trailering situations like climbing out of a boat launch or navigating the mucky, rain-soaked, uphill dirt road on the way out of our soggy campsite.
Before departing, we activated Tow/Haul mode with a button on the shift lever. It modifies the six-speed automatic transmission's shift mapping to take full advantage of the truck's engine. Under acceleration, shift points are higher for more power, while downshifts are initiated earlier to promote engine braking and reduce wear on the truck's brakes.
With Tow/Haul mode engaged, Trailer Grade Braking is activated by lightly applying the brakes. This feature initiates downshifts to help reduce speed on long downgrades. In addition to slowing the truck with greater efficiently, Auto Grade Braking also greatly reduces brake-rotor temperature, ensuring that the brakes are cool and subsequently more effective if you need them for an emergency stop.
The Trailer Grade Braking feature was put to the test numerous times as we made our way back to Calgary from the lofty elevation of the Crowsnest Pass area in southwestern Alberta. Even on steep declines in the pouring rain, this technology worked flawlessly, slowing the truck and trailer down in a totally civilized fashion.
Memories of the stinky brakes and white knuckles while dragging a camper in this region behind an Oldsmobile Vista Cruiser station wagon in my younger days were distant. Even with that massive trailer in tow and the horrible weather, it was as though we were rolling through the prairies, sans trailer, on a sunny summer day.
Another innovative feature found in new GM trucks is Trailer Sway Control. This technology works with the StabiliTrak system -- when it senses trailer sway, it intervenes with braking and/or reduced engine power to bring the trailer back under control. If the trailer is equipped with electric brakes, sway control also applies just enough braking to the required wheel or wheels of the trailer to straighten things out.
Just for kicks, I managed to get the trailer swaying ever so slightly and was amazed at how quickly the system got me back into shape.
If you opt for the full trailering package, you can also adjust the trailer's gain on the dash and easily modify trailer braking force based on the weight of a trailer. So, if you deliver heavy building supplies to a job site and then journey home with an empty trailer, you can adjust the controller to either trailer load.
Sierra's 5.3L EcoTec3 V-8 offers maximum trailering of 11,500 pounds (5,216 kg), more than any competitor. I simply can't say enough about GM's newest small-block V-8. It's supremely sedate when you want it to be, and a tiger when you pour on the coals. Sierra's class-leading 4.3L EcoTec3 V-6 can also trailer up to 7,200 pounds (3,265 kg).
The 2014 Sierra's optional Max Trailering Package will increase trailering to an earth-moving 12,000 pounds (5,443 kg) when equipped with the optional 6.2L EcoTec3 V-8 engine.
While I was thoroughly impressed with the towing capabilities of the new Sierra, it's the level of refinement in these new GM trucks that continues to amaze me. These new rigs offer a level of comfort and convenience unlike anything I've ever experienced in a pickup.
Even on a five-hour trip through the winding roads of southwestern Alberta the seats were both supportive and comfortable. The driver controls are well-placed and the audio systems rival luxury cars. There are more than enough power points, including USB connections and even an in-dash 110-volt plug, to keep all your gadgets charged. The trucks are also loaded with thoughtful storage solutions like LED lighting in the truck beds to brighten things up when loading at night, and a handy step integrated into the rear bumper to help you access the truck bed.
With an unprecedented level of comfort, increased power and a buttery-smooth ride, whether you're towing a massive camper trailer or simply commuting to work, the new GMC Sierra raises the truck-market bar to an entirely new level.
willy@freepress.mb.ca