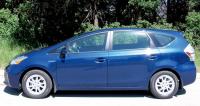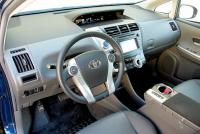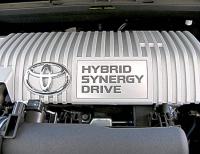 Advertisment
View 4 more Toyota Prius listings.
This is a tough one for me.
It has been well established hybrids are not worth the price premium if those who buy them are doing so for financial reasons. In general terms, hybrid technology costs money, and those who want it will pay a premium.
Basing the payback calculation on published fuel-consumption figures will result in a break-even point of several years. Basing the calculation on real-world fuel consumption, especially when dealing with a market like that of the frigid Canadian prairies, will net an even longer payback period.
There's also the rub that some hybrids defy direct comparison because no otherwise identical gas-engined vehicle exists. The Prius v is one such example. So we'll dispense with the notion of paying a price premium and expecting payback and treat the Prius v just like a regular car.
As the top dog of the non-plug-in Prius variants, the v accounts for more than one third of Prius sales in Canada and is touted as the model with more utility, thanks to its more generous measurements. Pricing starts at $27,425, and standard equipment includes a 6.1-inch touchscreen display, rear-view camera, dual-zone climate control, a split-folding rear seat, tilt and telescoping wheel, a cargo cover, push-button start, cruise control, 16-inch alloys, power heated mirrors, variable-intermittent wipers, and LED brake lights.
Another $2,985 buys the "Luxury" package, which includes navigation, satellite radio, synthetic leather seats, auto-dimming rear-view mirror, heated front seats, and more. Our tester was so equipped, resulting in an as-tested price of $30,410 before freight and taxes.
The Prius v powertrain is the same as that of the regular Prius: A 1.8-litre Atkinson-cycle four-banger is teamed up with a permanent-magnet electric motor and nickel-metal hydride battery pack to produce 134 net hp. You'll need to step up to the $35,700-Prius Plug-in to get the more advanced lithium-ion battery pack for more electric-only operation and longer battery life.
Suspension duties are addressed by a basic MacPherson front and torsion-beam rear setup -- nothing special about that. But on the Prius v, Toyota has increased the tech of this generic setup by adding "pitch and bounce" control, which uses existing sensors in the car to subtly send torque from the electric motor forward or toward the rear to counter the effects of typical body motions caused by acceleration and road undulations.
There's no driver control of this function, so it's difficult to assess how much the technology actually helps. But I can say the Prius v's ride is smooth and comfortable for a car this size.
Inside the Prius v, it's business as usual. The familiar centre-mounted display pod contributes to a quirky driving environment. I can get used to that, but there are some areas of the interior design that puzzle me in an age when consumers demand more style and character from even the most economical of rides.
Black, grey, and silver-coloured plastic dominate the interior environment of the Prius v. Combine that with the unconvincing synthetic leather on the seats (we used to call this vinyl), and the v's interior comes together as entirely too plasticky. In a city where the vast majority of taxis are adorned with a Prius badge, the impression that you're piloting a cab reduces the appeal of this interior somewhat further. Plus, I haven't seen such a large steering-wheel hub since airbags first appeared in the '80s.
But, as always, I'm interested in how well the car drives. And as always, I'm left wanting for more from a Toyota hybrid. Toyota's power-management system is adept at minimizing fuel consumption under as many circumstances as possible, but it's also responsible for lacklustre throttle response and a general tendency to ignore any attempt at spirited driving.
There are three buttons on the centre console to adjust to a driver's whim. EV mode propels the car on pure electric power, but only at speeds below 40 km/h. Eco mode is a combination gas/electric function that aims to minimize consumption at speeds more often associated with public roads, while Power mode is your best bet at putting some snap in the Prius' step. I spent most of my drive time in normal or Eco modes.
While the Prius v is rated at 4.3 L/100 km in the city and 4.8 on the highway, I managed to consume a full 5.6 L/100 km in mixed driving. I really was trying to minimize my consumption, though the hot weather was working against me.
With each new Prius I drive, I'm amazed at how seamless the transition between electric and internal-combustion propulsion has become. It still takes some focus to stop smoothly, as stopping duties are shared between conventional and regenerative braking.
Toyota is at the forefront of mass-produced hybrid technology and the Prius name is synonymous with fuel-sipping hybrids. It's not the final solution, nor is it the only one in this day of direct-injected gasoline and cleaner-burning diesel technology.
Unique to Toyota's hybrids, though, is the lack of emphasis on driving enjoyment. It just doesn't need to be this way.
-- Postmedia News