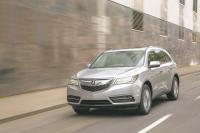 Advertisment

View 22 more Acura MDX listings.
Crossovers reek of Saturday morning, and I crave the hot neon and shiny black of Saturday night -- as long as you have Old Poppy in by 10.
Sadly, I don't party hearty anymore or scoot across sawdust floors for the shaky security of a good barstool. But, hey, I'm not back in parent prison either, which, as I recall, was just south of Corsicana.
Most downsize, car-based, faux-SUV crossovers come standard with tennis-shoe scuffs on the seats and grass ground into the carpets. I see long Saturdays of Walmarts and Targets and windy ballfields in most of them, of smiling weakly at really bad Black Eyed Peas and Beyoncé songs. ("I'd absolutely love another tune from Midnight Red, kids.")
Still, crossovers -- SUV-like trucklets built on car platforms -- are the hottest-selling vehicles in the auto industry. They can't be ignored. And I have to admit the 2014 Acura MDX is a bunch better than its vanilla envelope suggests.
Like Audi and BMW, Acura regularly transplants car performance features to its crossovers. While still well short of what you get in a real sports sedan, the all-new MDX can sparkle, even on a Saturday night.
The MDX is Acura's best-selling vehicle, attracting more than 50,000 sales last year, which for Acura is no small matter.
For 2014, Honda's luxury division increased the length of the MDX by five centimetres but reduced its width by 3.3 and height by 3.8.
More important, I think, Acura's engineers managed to excise about 136 kilograms from the MDX while also increasing the volume of the interior -- up 0.2 cubic metres to a total of 2.6 with the back two seats down.
In all honesty, the dark metallic gray MDX All-Wheel-Drive Tech I had recently didn't look much different than the 2013 model, although its Darth Vader grille -- which once looked like it had been designed at a California beach bash -- is more subdued now. In fact, the MDX's enormous headlamps -- with five projectors each and little eyelashes scratched into the covers -- might be the vehicle's oddest feature. Its broad, flat hood and relatively short front fenders are pretty conservative, as are the conventional character line cut above polished door handles and slightly flared fenders. Actually, with its large doors and slab sides, the MDX seems to be the kind of vehicle you could easily lose on a Walmart parking lot.
But look a little closer, because here's the deal with Acuras: Despite their somewhat clumsy exteriors, most offer excellent overall street performance, including the MDX.
Although the 3.5-litre V6 in the MDX is only rated at 290 horsepower -- down 10 from last year -- Acura has worked to reduce internal friction in the engine. Coupled with the MDX's loss of weight, the result is an estimated 0-to-100 km/h time of 6.8 seconds, according to Motor Trend, and fuel economy of 11.2 litres per 100 kilometres in town and 7.7 L/100 km on the highway. Both are some of the best in the midsize crossover class.
Just as important, Acura used more high-strength steel and lighter suspension components in the new MDX, making it livelier to drive. Its 245/55 tires on 19-inch wheels have some heft to them and the engine sings high and sweet. Would you have expected any of that in most lumpy crossovers?
Turn into corners briskly and the MDX remains pretty composed for something with the dimensions of a tool shed. Although it leans some in curves and hard corners, the all-wheel-drive MDX stays well-planted. As you might expect from a 1,950-kg, all-wheel-drive crossover, the steering felt thick -- a bit like stirring a new can of good paint. But it was quick and fairly linear in that the tires responded proportionately to movements of the steering wheel and didn't feel dumbed down by electronics.
The reasonably good handling was a bit of a surprise because the rock-solid MDX rides well, grooving along on smooth pavement or stepping over bumps with confidence.
As well it should, some might say. Starting at $61,935, the MDX Tech can't make excuses for falling short.
The sophisticated V6 and six-speed automatic, for example, felt especially polished. Quick to leap away from stops, the torquey engine pulled with such smooth thrust to its 6,200-rpm red line it felt almost like a small V8. Likewise, the light-grey interior looked pretty tony.
My MDX had three rows of seats, with a new one-touch folding second row. The second row, which also reclined, slides forward roughly 15 cm, Acura says. I fit OK into the third seat but had some real difficulty getting out. For just a minute, I thought I might be stuck permanently. At least my hair matched the seats.
Up front, a classy black instrument panel flowed gracefully into a big, bold centre stack with a nifty recessed navigation screen at the top. Acura ELiminated many of the buttons on the centre stack, consigning them to a line on those irritating computer menus. Consequently, I never found a way to control the fan speed. The radio was also difficult to tune on the roll.
But the interior had good-looking medium-brown wood trim and smooth, nicely stitched grey-leather seats. In addition, the lower dashboard and bottom portion of the door panels were cast in grey with matching black uppers. It all felt pretty rich.
So, while I would still find it hard to pay 60 large for a crossover, here's our situation, fellow campers: Where are we possibly going to find a zippy, decent-handling, near-luxury sports sedan with such a large amount of space behind the front seats?
-- Dallas Morning News