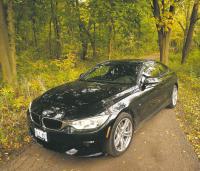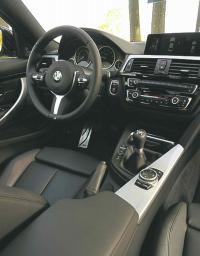 Advertisment

View 56 more BMW listings.
Car buyers need to be a savvy bunch. With words like "all-new" and "best" this and "most" that being tossed around to describe pretty much every vehicle on the market, it's important to find out how realistic such claims are before taking the plunge and signing on the dotted line.
So it is with some skepticism (accompanied by a much healthier dose of enthusiasm) I accepted the opportunity to drive this new 435i from BMW for the round trip between Toronto's Pearson airport and Niagara Falls, Ont. For those familiar with BMW's model range, you will note indeed this is, as the company's marketing machine is happy to point out, the first-ever 4 Series BMW.
But what does that mean? Until now, the popular 3 Series BMW has been offered in several variants, including sedans, coupes, convertibles and wagons. But for 2014, the 3 Series is offered only in sedan, wagon, and Gran Turismo layouts (and please don't get me started on that GT model). And the two-door models shall henceforth be known as the 4 Series.
The question, though, is this: Is this car really new enough to justify this changed identity, or are we looking at BMW's version of, say, the Infiniti Q60? The Q60, some will note, was called the G37 Coupe last year, but some minds at Infiniti's camp saw fit to rename the entire works, even if the car itself hasn't changed.
But that's not the case here. Along with its new name, BMW's popular coupe has entirely new sheet metal. While based on the current 3 Series sedan (code-named F30), the new "F32" coupe is lower, wider and longer, but in a subtle enough way that many will mistake it for a 3 Series for years to come. And who could blame them: The 3 coupe has been a fixture of the automotive landscape since the mid-'70s.
This also marks the end of the two-door, high-performance M3, to be replaced by the M4. Gosh, I hope those marketing people know what they're doing.
But what we really want to know about the 4 Series is how well it continues the spirit of its predecessor regardless of its name.
Most notable when comparing its looks to those of the sedan is the coupe's sleek roofline that ensures this won't be confused with the four-door. BMW's coupes, whether in 4 or 6 Series trim, have become much easier on the eyes in recent years. There's an upscale look to this car, particularly in rear three-quarter view, that encourages a prolonged look just to take it all in.
In this day of increasingly rare manual gearboxes, one of the first things I do when approaching a sporty little number like this is peek through the window and find out how many pedals the car has. I was pleasantly surprised to find an honest-to-goodness six-speed stick poking out of the centre console. I would like to think the majority of 4 Series cars will be ordered so equipped, but the reality is most of these will come with the eight-speed automatic. That the slushbox is standard equipment while the manual is a no-cost option speaks volumes.
And that's a shame, really, because the 4 Series has one sweetheart of a stick. Some journalists at last October's AJAC TestFest lamented the gearbox's long throws, but I found the unit to be classic BMW, and that's a good thing. It's a slick-shifting unit that glides effortlessly between gears through well-defined gates. Sounds simple, but few manufacturers (Honda, BMW, and Porsche come to mind) manage it so consistently.
And in our 435i xDrive tester, motive force was provided by another BMW classic, the inline six. For my dollars, I would not have a Bimmer any other way. The twin-scroll turbocharged 3.0-litre unit churns out 300 buttery horses and a broad plateau of 300 lb.-ft. through nearly the entire usable rev range. What that means is drivers can enjoy instantaneous response and silky power delivery no matter where the tachometer needle is pointed.
I drove this car in the Niagara region for five days and I can say this is the kind of vehicle its owners will look forward to getting into every single day, even if the order of the day is a routine commute. Find some twisties, though, and the car's electric power steering and front strut/rear multi-link suspenders do a fine job of translating its pilot's wishes into action.
The 4 Series starts at $44,900 for the 428i; major standard equipment includes a 2.0-litre turbo four, dynamic cruise control, keyless start, Xenon and LED lights, rain-sensing wipers, heated Dakota leather seats, dual-zone climate control, nine-speaker audio, iDrive user interface and a bunch more goodies. Make that car an xDrive (full-time all-wheel drive) and you can add $4,100 to the price, and let it be known that model can't be had with the stick. The $54,900 435i loses the turbo four and adds that force-fed six I have been known to drool over. Make it an xDrive and you have our tester; that gives it a $55,600 sticker price.
Our tester had the no-charge stick, but it also had a few extras BMW is more than happy to charge for: metallic paint, the M Performance package (adaptive suspension and variable-ratio steering, and the Premium (adaptive lights, navigation) and Executive (heads-up display, surround view monitor) packages. Including freight and the other fees listed on BMW's website, our car tipped the scales at $68,201 as tested.
Regardless of whether the car's name starts with a 3 or a 4, that's a lot of coin. But be a bit less liberal with the options, and that sum can be $10,000 less with no sacrifice in performance. And make no mistake about it: this new 4 is much more than an old 3.