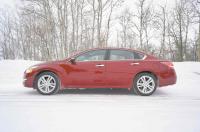 Advertisment
View 8 more Mazda 6 listings.
My first Altima review was way back in 2001. Even though it wasn't a class leader, Nissan's ability to produce a small, sporty sedan that was efficient and responsive without trying too hard to stand out from the pack really impressed me. It outperformed rival four-banger sedans and offered great value.
Times quickly changed, and Nissan responded to North America's hunger for larger cars with more power in 2003 with a complete redesign and a change in focus. Legroom and power were the new magic words. This combination elevated the Altima's image so effectively with its target market, Nissan has never looked back.
As with so many model lines from various manufacturers, the Altima has grown over the years and others have stepped in below to fill the gaps. The current Sentra is actually larger and more fuel-efficient than that first Altima I reviewed.
One thing that hasn't changed is Altima's value. In this cutthroat class, it has no choice. For 2014, the base 2.5 model starts the bidding at $23,698 and includes a hearty helping of standard kit: a healthy four-banger/continuously variable transmission combo, independent suspension and disc brakes all around, fog lights, dual exhaust tips, Bluetooth connectivity, push-button ignition, wheel-mounted cruise control, tilt/telescoping wheel, sunglass storage, map lights all around, four-speaker audio with Bluetooth streaming capability and an econobox-like fuel-consumption rating of 7.5 litres per 100 kilometres city and 5.1 on the highway.
Throw in another $1,200 and you get the S: remote start and a rear-view monitor top the list of desirables, along with USB iPod interface, satellite radio, hands-free text messaging and more.
As in other Nissan models, the SV manages to pull together most of the features people want in a well-priced package. The Altima SV is $26,198 and adds 17-inch alloys (16-inch steelies are standard on lesser models), heated front seats, a leather-wrapped wheel, power sunroof, dual-zone climate control and some other goodies.
The 2.5SL furthers the luxury focus with leather upholstery and a premium audio system, choice of wood or metallic trim (both reasonable facsimiles of the real thing) and more for $28,898.
Our tester was the full-load 3.5 SL and is the only V6-powered model in the lineup. In addition to the 270-hp V6 humming under the hood, the $32,998 3.5 SL Tech gets 18-inch alloys. The Tech group includes navigation with a seven-inch touch display, nav controls on the wheel, blind-spot warning, lane-departure warning and moving-obstacle-detection system.
Including a $135 charge for our tester's Cayenne Red paint and $120 for carpeted floor mats (a bit inconsistent with our test subject's value proposition), our tester tipped the scales at $33,253 plus freight and taxes.
Nissan is putting significant responsibility on its continuously-variable transmission (CVT) technology to get its fuel consumption down on all of its car and crossover models. CVTs eschew fixed gear ratios in favour of a variable-diameter pulley and belt system that allows the car's computers to continuously vary the ratio between engine speed and road speed for the most appropriate response under the conditions.
The company is ahead of the curve with respect to responsiveness when a CVT gets between the driver's right foot and the engine, and the result is a drive that isn't spoiled, and is perhaps enhanced, by the CVT compared to a conventional automatic transmission. And the CVT's flexibility and programmability allow the Nissan to achieve the consumption numbers worthy of bragging rights. It's that balance Nissan has achieved that makes it the exception with this type of transmission.
For the record, I achieved a fuel consumption of 8.7 L/100 km on the highway and 12.4 overall with a majority of city driving. Nowhere near the published ratings, but we're used to that these days, especially in winter. And I did make use of the factory remote start more than once on frigid mornings, which skewed the average consumption over this short one-week test drive.
Altima's controls are worthy of praise. Cruise, audio, Bluetooth and trip computer functions are easily accessed on the steering wheel and there are sufficient hard buttons on the centre stack to do most functions without accessing the touch screen. In a day when too many vehicles have interfaces that distract more than they assist, the Altima's system is refreshingly straightforward.
As far as the exterior goes, I'll concede that styling is highly subjective, but I much prefer the cleaner and more modern designs of many of the Altima's competitors: Fusion, Mazda 6, Optima, Accord.
The Altima's sensitive throttle tip-in is the only issue I had with the car's responsiveness when navigating in traffic. And when you've got a V6 under the hood that spits out 251 lb.-ft. of torque, aggressive throttle response is not really appreciated in the winter.
Shift paddles are provided, but consider them a novelty since this is a flexible engine with a broad torque curve and we don't need to be pretending the transmission has gears just to make it feel sportier. Want more responsiveness? Just slide the Shift lever down from D into Ds and the transmission will dial up more engine revs and that will be it.
The Altima is big on providing its occupants with a smooth, quiet ride. This is a luxury car in mainstream sedan duds, and it does its job very well. If you like the styling, it's very easy to become accustomed to this fast, roomy people-mover. Just don't expect the sportiness on which early Altimas built their reputation.