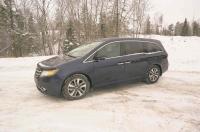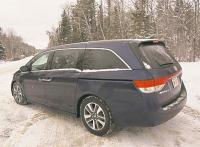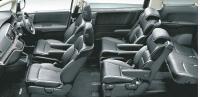 Advertisment

View 49 more Honda Odyssey listings.
When I was growing up, my family made an annual pilgrimage to Colorado in summer to visit my grandparents.
The family road trip was quite different back then. With luggage strapped onto the roof rack, the cargo hold of our Chevy Kingswood Estate (yes, the big green wagon with wood on the side) and subsequent Aspen wagon (yes, the skin-tone one with wood on the side) housed a foam mattress. We took turns jumping between the back seat and the mattress to have a nap and play games.
Of course, in this day of enhanced road-safety awareness, such a practice is unheard of, but it's fun to reminisce about the good old days. It wasn't all fun and games, though. I do remember having to constantly come up with new ways to pass the time. We had board games, activity books and even the alphabet game, where we would look out the windows for objects starting with A, B, C, and so on.
But boy, did that get old fast. It's in our nature to remember the good times, but, when we really think about it, there were some long days on the road back then. We split the trip to Colorado into two nine- or 10-hour days (except for the detour through Yellowstone that one year, but we won't go there), and it was impossible not to become bored stiff.
My favourite was when we became thirsty and had to pretend there was a water tap on the back of the front seat and drink an imaginary glass of water. I just thought that was really mean until we had our own kids and realized we'd never get there if we stopped every time someone was thirsty. What goes around, I suppose.
And yet, with all the options available to help pass the time on road trips today, the dissenters have somehow convinced themselves that watching movies and playing video games on long trips is just wrong.
So I'm here to set the record straight, and to help make my point is the 2014 edition of Honda's Odyssey Touring van, one of the very best options for road-trip conveyances on the market.
One doesn't need to spring for the (gulp!) $47,990 Touring model we drove to get at least some of the conveniences that make this such a great road-trip choice. For example, just $29,990 buys a ticket to Honda van ownership in the form of the Odyssey LX.
Even in this base model, there's a slick 60-40 split folding third-row seat that disappears into the cargo well, increasing cargo capacity from 846 to 2,636 litres.
For perspective, consider that we had a duffel bag, three small suitcases, a hockey bag and a stick behind the second-row seat, and they were all spread out in a single layer on the cargo-space floor. I'm proud of my ability to pack as much as possible into small cargo areas, but I have to admit it was kind of fun to just throw everything back there without worrying about running out of room.
That same base model includes a 240-watt audio system with MP3 playback and streaming audio capability, which certainly beats a tape deck and a box the size of a briefcase with 50 cassettes in it. Plus, there are 10 cup holders scattered throughout the cabin.
The $31,990 SE has all that stuff plus a flip-up trash bag ring that springs from the front centre console, and five more places to store cups and bottles. Now parents can tell their kids to imagine all those cupholders filled with drinks so they can take imaginary gulps at will.
Pay the $34,990 asked for the EX, and road trips start to get even easier. Tri-zone automatic climate control means the kids won't roast in the back while parents enjoy more temperate conditions in front. Power sliding doors allow everyone to make use of both their arms to carry things in and out of the van. And the proximity key system with push-button start means nobody needs to go to the trouble of pulling the key fob out of their pocket to lock and unlock the doors.
Fork over another $1,500 and a rear-seat DVD entertainment system opens up a whole new realm of pastimes. Not only does it play DVDs, it incorporates a 115-volt power point and RCA inputs for gaming systems. The best part is it includes wireless headsets so parents can listen to whatever they want while the kids stay entertained.
But that top Touring model is king: The DVD gets an ultra-wide display (16.2 inches), 650 watts of surround-sound audio and a slick in-car vacuum cleaner that will work to clean up the popcorn that took flight when the evil minions attacked. There's even a cooler for those drinks that manage to make it along for the ride.
The Odyssey managed respectable fuel consumption at just less than 10L/100 km on our road trip, but that number climbed closer to 14 in winter city conditions. Though not exactly frugal, it's quite a bit better than Dad's Kingswood Estate, its 400-cube V-8 chugging leaded at a rate of 12 miles per U.S. gallon on the highway, or something like 20 litres per hundred.
So though it's true they just don't make things like they used to, I'd contend this is a plus more often than not. The Luddites can keep their Kingswood Estates; I'm happy to be in the 21st century when the family road trip can be a fun -- and peaceful -- way to travel.