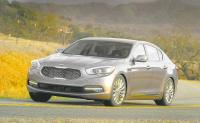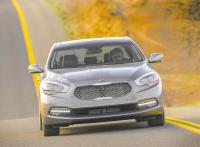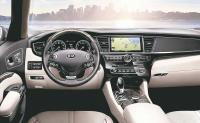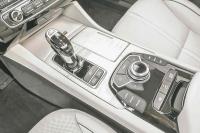 Advertisment

View 75 more Kia listings.
Before you scoff at the idea of Kia's all-new $50,000-plus K900 full-size sedan, remember Lexus.
Twenty-five years ago, it was absurd to think that a Japanese brand could build a high-end vehicle to challenge German luxury car leaders Mercedes, BMW and Audi.
Then Toyota's Lexus brand came out with the LS. Like the Germans, the LS packed a V-8 and rear-wheel drive into a full-size sedan. But it did so for mid-size, V-6 money.
Critics and customers loved it. Two years later, Lexus was the best-selling premium brand in the United States.
Kia Motors Corp., hoping to make similar waves in this rarefied world, began its move into the luxury market last year with the large Cadenza sedan, which topped out at just shy of that $50K mark.
But the South Korean automaker wanted something even fancier -- a halo car that would help buyers of its cheapo Rio or Soul compact cars feel good about the brand.
Enter the K900, whose creamy smooth drivetrain, unbeatable value and legitimately luxurious construction should do all that -- and maybe put a dent in sales of the Lexus LS 460.
While the K900 is available with a 311-horsepower V6 for around $50,000, he 5.0-litre V-8 Elite version we tested is impressive -- rated at 420 horsepower and 376 pound-feet of torque, the direct-injected engine and eight-speed automatic gearbox perform admirably.
The engine provides ample whisper-quiet power, and the transmission shifts without effort or drama -- though it's a little slow on the downshift. (Switching to "sport" mode eliminates this.)
It is a little thirsty. Though the government rates the V-8 K900 at 13.3 litres per 100 kilometres in the city and 8.9 L/100 km on the highway, a week of city driving gave us an average of 16.8 L/100 km.
On the road, our V-8 tester ate up the kilometres with a detached plushness. Kia has stressed comfort over handling, but the K900 offers better road feel than the completely numb Hyundai Equus on which it's based.
True, a comparably outfitted Mercedes-Benz, Audi, or BMW of equal size will deliver both comfort and responsiveness. But their V-8 models also cost at least $20,000 more.
Wrapped around all this is a body that's as unique as it could be without upsetting traditionally conservative buyers of full-size luxury sedans, with LED lights, a chromed, chain-mail grille and a rear end that looks a little like the BMW 7-Series.
The K900's interior is more spacious than the Lexus LS 460's -- though it does lose some trunk space -- and is also cushy. The rear passenger area is cavernous, with headrests so soft and plush they deserve their own section at Bed Bath & Beyond.
The K900's dashboard -- which could use more panache if it's going to compete in the high-end market -- features the same crisp and informative navigation screen we've come to love on other Kias.
But this one is to be seen, not touched. Users also have to fuss with a less-intuitive rotary knob on the center console. Buttons for the climate control and stereo are a bit scattered too.
Unfortunately, it also has the clumsy sunroof control we hated in other Kias.
The K900 V8 Elite starts at $71,480. That price includes the navigation system, blind-spot monitoring, lane-departure warning, temperature-controlled nappa leather seats, panoramic sunroof, front and rear parking sensors, 19-inch alloy wheels, and a 900-watt, 17-speaker Lexicon sound system.
But that's not all. With the Elite you get adaptive cruise control, a fully digital 12.3-inch instrument panel, heads-up display, power reclining rear seats that are also ventilated and a bird's-eye camera system. There are virtually no options on the car except colour selection.
Does the K900 constitute a real challenge to the Equus? Yes. It's a better car in every way.
It can also compete with the Lexus. Though the LS 460 trumps the K900 in interior design and execution, and comes from a brand with a proven track record in the luxury world, a model equivalent to this Kia would cost around $20,000 more.
So, maybe it's really Toyota Motor Corp. that should be nervous, because it can be dangerous to let your guard down in the cutthroat world of luxury. Just ask the Germans.
-- Los Angeles Times