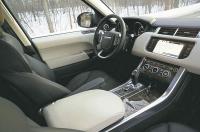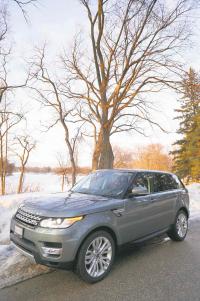 Advertisment
View 1 more Land Rover listings.
As automotive journalists, we strive to look past such superficial things as luxury badging, sumptuous leather interiors and oversized alloy wheels when putting a new vehicle to the test.
That's right, we don't care when the manufacturers' fleet managers try to put their best foot forward by carefully selecting the options that shine the best light on their products. We're smarter than that.
Or at least, that's what I thought.
Until, that is, this Scotia Grey Land Rover turned up on my driveway. It's not often I'm immediately smitten by a 2,150-kilogram crossover, but here it is. The 2014 Range Rover Sport from Land Rover is one of those rare vehicles that commands attention as it rolls confidently down the road. There's nothing outlandish or unorthodox about it, but the Rover's designers knew just how to put all of the pieces together and come up with the kind of cachet that BMW and Mercedes-Benz can only dream of.
The familiar, blocky Land Rover shape brings with it some classic features -- the clamshell hood and fender vents are nothing new -- but manages to modernize itself with the help of sophisticated lighting clusters and blacked-out pillars that allow the roof to float above the rest of its body.
Redesigned for 2014, the new Sport loses its steel ladder frame and gets a modified version of the top-dog Range Rover's aluminum unit-body platform. There's a commensurate loss of curb weight as well, to the tune of 345 kg, or nearly 800 pounds. Lest you think the Sport has gone soft, let it be known this beast was developed alongside the flagship Range Rover; it's no longer a tarted-up LR4 posing as a Range.
And all of the off-road capabilities its owners will never need are there: The sophisticated Terrain Response 2 system can be left in Auto mode to constantly evaluate the driving conditions and assign settings for the engine, transmission, differentials and suspension on a continuous basis. There are also driver-selectable modes like Grass/Gravel/Snow, Mud/Ruts, Sand and Rock Crawl.
There is a bevy of supporting technologies as well: hill-descent control, gradient release control, hill start assist and roll-stability control just to name a few.
Purists might lament the absence of a low-range transfer case in the standard Sport; however, buyers can select the $1,300 Extra Duty package to turn that frown upside down. But let's not get carried away here: even without the benefit of a low range, the Sport still has at least 7.9 inches of ride height, maxing out at 10.4 inches when the standard air suspension is set to off-road mode. You have to literally want to drive your new $80-K SUV over large boulders to make use of a two-speed transfer case in the Range Rover Sport.
While $80K is just the starting point ($78,990 to be exact) for the Sport HSE, our well-optioned tester did not take a Porsche-like launch into the world of six figures. We had the $1,300 climate and visibility package (heated and cooled front seats, heated rear seats, a cooler in the front centre console, automatic high-beam assist, adaptive xenon lights, and more), $1,800 21-inch wheel package and $2,250 vision and convenience package (blind-spot monitor with cross-traffic alert, surround cameras, automatic parking and soft door close). Throw in the zebrano wood veneer and Sirius satellite radio (seriously?) and the final tally at the register for our tester was $86,710 including freight and A/C tax.
While the list of standard kit in this stately conveyance is exhausting, notable inclusions are bi-xenon headlights with washers, laminated windshield and front door glass, rain-sensing wipers, a heated windshield (I'm a big fan of that in the winter), parking sensors, a heated steering wheel, navigation, and the list goes on.
Even though the Sport has lost a small moose worth of weight, it still tips the scales at 2,144 kg, so svelte is not a word one would use to describe it. Despite that, its smallish interior yields only 784 litres of volume behind the rear seats and 1,761 litres with the rear seat folded. While it would never be cross-shopped with my VW diesel wagon, let it be known the humble Golf will carry more stuff in both cases.
We loaded up the kids and our stuff and headed south for a few days to see how the Sport handled family-road-trip duty. Not surprisingly, this ute is right at home cruising on the interstate for hours at a time. Supremely comfortable seats, a crisp, clear sound system and plenty of power made short work of our road trip.
Ah, the power. Even though this is not the Supercharged model, it does, in fact, have a supercharged engine in it. While this may not be the 510-horse blown V-8 of that top-end model, the HSE's direct-injected 3.0-litre V-6 uses forced air to pump out a stout 340 horses and 332 lb.-ft. of torque over a broad range of engine speeds. Combine that with a competent eight-speed automatic transmission and rear-biased torque distribution and the feel from the driver's seat is that this is a sports car trapped in an SUV body.
Of course, with this thing's curb-straddling ground clearance and considerable girth, it doesn't corner like one, but the thrust is certainly there.
About the only frustration was the Sport's user interface. While I'm a fan of touch screens over control knobs, and the former is a rarity in the luxury class, this one left me with the impression it was a 10-year-old Ford design that hasn't seen a software update in about as long. It's mostly thanks to its sluggish response to inputs that becomes old very quickly. And the buttons each side of the eight-inch touch screen look a bit dated for a brand-new model.
But those niggles are a small price to pay for the kind of luxury and cachet that the Range Rover Sport delivers over its competition.