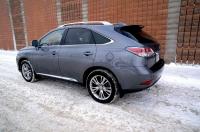 Advertisment
View 19 more Lexus IS listings.
When I was driving the Ford Fusion Energi plug-in hybrid for six weeks this past winter, it became clear that owners of such green vehicles are happy to pat each other on the back. The driver of a Lexus RX 450h was envious when she saw me plug my car into the wall, activating the illuminated blue ring at the Fusion's connection point.
"I'm so jealous!" she exclaimed.
And after subsequently driving an RX 450h through the tail end of our coldest winter in more than a century, I know why: she would have enjoyed precious little of a conventional hybrid's advantages over the five months leading up to that exchange.
Our 2014 RX 450h tester started life with a base price of $62,300. The mildly-refreshed 2015s are already on the market though, and the price has seen a mere $350 bump. But that modest amount gets RX buyers a whole array of additional standard equipment. Our 2014 tester was equipped with the Technology package which adds about five grand to the price. But there are several items that were part of that package which have now found their way to the "base" model.
Items like intuitive parking assist, navigation, a blind spot monitoring system, and a heated wood and leather steering wheel are all previously-optional items that are now on the standard equipment list.
Given that the gas-engined RX 350 has increased in price by nearly $4,500 for 2015 (also a better-equipped model compared with last year), it appears that the premium being requested for a hybrid has generally decreased, which is a good thing.
Lexus' decision to keep V-6 power under the hood of the 450h rather than saddle it with a four-cylinder as Infiniti has done with the QX60 hybrid was a good one. While it shares its 3.5-litre displacement with that of the RX 350, this one is an Atkinson-cycle version which achieves a higher efficiency at the expense of low-end torque. Hybrids have the advantage of an electric boost at any engine speed so that torque issue goes away.
The end result: 295 net horsepower compared with the RX 350's 270.
Be aware that even though the RX 350 and 450h are both equipped with all-wheel drive, they are very different systems indeed. The 350 has a front-drive based system with "active torque control" that can send as much as 50 per cent of the engine's torque to the rear wheels. The good thing about this system is that it automatically engages all four wheels under acceleration. This is a key difference compared to lesser slip-then-grip systems when it comes to how well they work in everyday situations.
The hybrid, though, has no mechanical connection between the gas engine and rear wheels. Instead, the rear axle gets its own electric motor to help when traction is lost at the front. Think of this all-wheel drive system as more of a traction aid than one for overall handling and you won't be disappointed. But for me, I'd rather not experience the torque steer of a nearly 300-hp front-driver in my luxury crossover.
It was still winter-like when I drove the RX; cold enough for me to note that the gas engine operates virtually continuously when the mercury drops. I averaged a thirsty 15 L/100 km in cold weather. It's no surprise though: on several occasions, with the climate control turned off and the engine up to normal operating temperature and the battery showing a full state of charge, the engine was running even as the display indicated it was not.
Hybrids don't like winter, plain and simple.
Lucky for the RX's occupants, though, the interior environment is a great place in which to be sheltered from the harsh elements outside. Comfortable seats, a fine audio system and a very refined drive are what Lexus customers expect--and that's what they get. The smooth V-6 offers effortless yet refined power. Brake modulation on dry surfaces is about the smoothest I've experienced in a hybrid.
The refined-for-a-hybrid smoothness in the braking system is thanks to a completely new electronic control for the brake system which detects pedal force then applies appropriate brake pressure to each of the four wheels individually. It has the ability to combine the conventional and regenerative systems employed by hybrids in a way that is immediately noticeable. No longer is braking smoothly in a hybrid a task that requires an inordinate amount of focus.
In short, this luxury cocoon fulfils its primary mission.
As with most luxury marques, Lexus prefers to use a remote controller rather than a touch screen to access many functions. The eight-inch display can then be set back away from glare and fingerprints. Lexus IS unique in its application of a mouse-like device that features haptic feedback to make it easier to move between various items on the display.
With the RX 450h, Lexus continues to do what it does best. They appeal to a rather large component of the luxury market that looks for a serene, isolated driving experience with a well-appointed interior, fabulous audio system, and lower than average fuel consumption. While "sporty" is not a word that can be used to describe the RX, I don't think too many buyers will be disappointed.
autoreviews@mymts.net